Passing the Torch of the Lois Hole Hospital Women's Society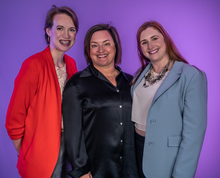 After two years at the helm of the Lois Hole Hospital Women's Society, we extend our sincere gratitude to Lisa Diamond for her leadership, vision, and commitment to championing women's health in our community. In what is truly a bittersweet announcement, Lisa Diamond has passed the torch to incoming co-chairs, Vanessa Lancaster and Rhiannon Adams.  
During Lisa's tenure as chair, the Women's Society continued to build on their founding mission to raise awareness and funds for the Lois Hole Hospital for Women – the only hospital in Alberta dedicated to women's health and wellness.
Lisa's steady leadership over the last two years guided a pivot to virtual events and new opportunities to engage with the community during the COVID-19 pandemic.
The Women's Society's signature event series, What the Health: Mind + Body Talks presented by Alberta Blue Cross, became a virtual women's health lecture series discussing important topics related to women's health that runs from September to June each year. This online pivot enabled attendees from across Alberta and beyond to access critical health information delivered by local experts at an inclusive forum through which to discuss questions, ideas, and learnings with others. In 2022-2023, the lecture series saw a record 1850 registrations, empowering more Alberta women to take charge of their health and well-being.
Under Lisa's leadership, the Women's Society hosted multiple initiatives, helping raise donor support and awareness about the need for investment in women's health. Notable events include Bid + Benefit, an online silent auction held twice a year to raise funds for the Society, the LHHWS Fifth Anniversary Party and fundraiser at SYC Brewing, the first in-person event hosted by the Women's Society after two years of the COVID-19 pandemic, and Fashioning the Future, a private shopping experience and fashion show sponsored by Simons in West Edmonton Mall, with a percentage of sales made as a donation.
The Women's Society collectively raised almost $400,000 in just two years through the outstanding dedication of our volunteers, donors and community partners.
The Women's Society was thrilled to announce a lead gift of $300,000 to the Indigenous Cultural Partnership at the Lois Hole Hospital for Women, a five-year pilot program that advocates and seeks to establish a reconciled model of medicine that is rooted in equal representation and prioritization of Indigenous health and wellness knowledge systems and practices in sexual and reproductive health alongside the Euro-Canadian approach that is already in place. 
Lisa's contributions to improving women's health stretch far beyond her two years as chair. Lisa is a well-known philanthropist and volunteer in the Edmonton community. Lisa is one of the founding members of the Women's Society, serves as a current board member at the Royal Alexandra Hospital Foundation and most recently, co-chaired the Harvest Celebration gala and committee alongside her husband, Jerrold in 2022.  
Thank you, Lisa, for the dedication and passion for women's health and wellness. Your impact has been transformational.  
While we are sad to say goodbye to Lisa Diamond, we are thrilled to introduce our new co-chairs, Vanessa Lancaster, and Rhiannon Adams!  
Vanessa Lancaster is a mom, leadership coach, HR professional, and community advocate. Having lived in Edmonton for nearly 20 years, she is passionate about creating communities where all can become their best versions. At work, this means she helps leaders build and sustain high-performing teams. In her volunteer work, she creates an environment for imagination and accountability.  Joining the Lois Hole Hospital Women's Society in its early inception, she was able to take her community work and skills, particularly from Global Shapers (an initiative of the World Economic Forum) and apply it more locally. The hospital is where both of her children were born and a close family member was treated for cancer, so has a special place in her heart.  
Rhiannon Adams works as an intellectual property lawyer and holds an M.Sc. in neuroscience. She loves how volunteering for the Women's Society brings together her passion for giving back to the community and her lifelong interest in science. She has been a supporter of the Lois Hole Hospital Women's Society since its inaugural founding member campaign and feels very fortunate to have been able to be a part of this incredible group of volunteers for the past six years. Having been a patient at the Lois Hole Hospital for Women herself, Rhiannon also finds it rewarding to raise money to support the needs of future patients of the Hospital by improving their overall experience and health outcomes. 
As co-chairs, Vanessa and Rhiannon have set ambitious goals to create a deliberate and impactful community that is a conduit for the Lois Hole Hospital for Women's mission. Together, they aim to create a culture of transparency and connection that will inspire the Women's Society and Edmonton community members.  
The Women's Society is determined to support hospital programs, continue to invest in medical equipment, and implement innovative patient care initiatives for women of all ages and in all stages of life. Together, we can make a lasting impact.
If you would like to get involved, click the button below!