Simons X LHHWS: Fashioning the Future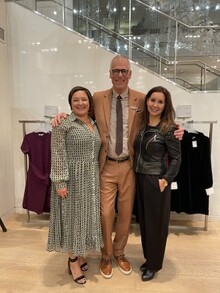 On the evening of October 27th, 2022, the Women's Society partnered with Simons West Edmonton Mall to host Simons X LHHWS: Fashioning the Future. It was a spectacular night full of sparkles, bubbles, fashion, and fun – all for a good cause.
Throughout this glamourous event, guests enjoyed our Prosecco, canapés, sweet tunes, a fashion show, and speeches from Lisa Diamond, the current chair of the Women's Society, from Sharlene Rutherford, the President and CEO of the Royal Alexandra Hospital Foundation, and from Simons' Chief Merchant, Peter Simons.
Amid all the fun, the event served a higher purpose too – raising money for the Indigenous Cultural Partnership - one of the main causes the Women's Society is helping fund as a part of our philanthropic mission.
During the event, Simons pledged to donate 10% of sales to the Indigenous Cultural Partnership - amounting to $25,000!
We'd like to express a sincere thank you to Simons for their incredible generosity in both their gift to the Women's Society and for hosting such a beautiful event. We are always grateful for collaborations with our community partners.
We'd also like to say thank you to everyone who came out and supported this event – it was a smashing success because of you!