Bid + Benefit Spring 2023 raises almost $4,000!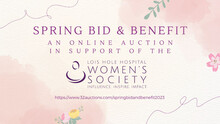 From May 25th - June 3rd, the Lois Hole Hospital Women's Society held its semi-annual Bid & Benefit online auction, raising $3,920!
A sincere thank-you to everyone who bid and participated in the event - from donating to the auction or bidding on items, your support means a lot! A special thanks to our donors: Bella Maas Boutique, Carrie'l Salon and Spa, Kaavish Spa, the Optimist Club of Beverly, Cloud Nine Pajamas, Kaden Avenue Communications, The Edmonton Elks, Honor Baby and Child and Krew Cafe, Bliss YogaSpa, Rosemarie Horne, Paperdoll Clothing, kb&co, The Sparkle Bar, and WestJet!
Thank you for continuing to support women's healthcare!