What the Health: Let's Talk About Personalized Cervical Cancer Radiation Therapy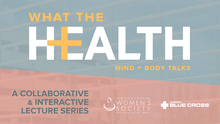 For the October installment of our monthly lecture series What the Health, the Women's Society was joined by WCHRI researcher and University of Alberta professor, Dr. Geetha Menon for What the Health: Let's Talk About Personalized Cervical Cancer Radiation Therapy. All of our What The Health events are presented by our long-time sponsor, Alberta Blue Cross.  
Dr. Geetha Menon is an Associate Clinical Professor and Senior Medical Physicist in the Department of Oncology, Cross Cancer Institute, at the University of Alberta here in Edmonton. Dr. Menon received her Ph.D. from the University of Alberta and holds a Fellowship at the Canadian College of Physicists in Medicine. Over the years, her clinical areas of interest and expertise have been in brachytherapy and women's cancers, mainly breast and cervix. Her principal research focus has been on MRI-based gynecological brachytherapy, dosimetry in ocular and prostate brachytherapy, and the use of machine learning in radiation oncology, which has resulted in innovative research spurred by observations from clinical practice. Dr. Menon has received several grants to fund her research and the multidisciplinary partnerships have resulted in several peer-reviewed journal publications. 
Dr. Menon walked us through the history of cancer treatments, and the common types of treatments currently in use, including state-of-the-art options currently available for patients at the Cross Cancer Institute, thanks to advancements in research.
Dr. Menon also taught us about different types of cervical cancers and shared her research on the subject.
If you were not able to join us on October 27th for the lecture, the video is now available on zoom for your viewing pleasure.
Thank you to Dr. Menon for donating her time and sharing her work with us in this informative lecture!