Fall Bid and Benefit 2022 raises $4567!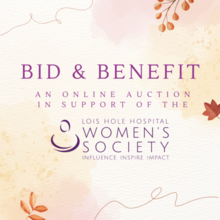 From October 11th – 18th, 2022 we held our fall Bid & Benefit online auction, raising $4,567.00!
 A sincere thank-you to everyone who bid and participated in the event, whether that was through donating to the auction or bidding on items. The support means a lot! A special thanks to our donors: Diamond Dental, Erin Elizabeth Ross, Hudson's Bay Kingsway, the Edmonton Elks, Parlee McLaws LLP, Swish + Company, Red Ribbon, The Sparkle Bar, Who Cares Wear, Alligator Pie Kidswear, Dr. Marcia Hartt Medical Aesthetics, Mommy Bag Yeg, Jilly's Boutique, and Crestwood Wines and Spirits!
We couldn't have done it without you! Thank you for supporting women's healthcare.