What the Health: Let's Talk About the Skin You're In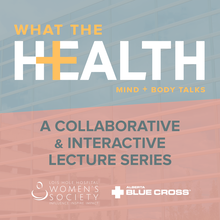 After a summer off to rest, recharge and plan for our next season of activities, our monthly speaker series What The Health, returned on September 22nd, 2022 with What The Health: Let's Talk About the Skin You're In, featuring Dr. Thomas Nakatsui. All our What The Health events are presented by our longtime sponsor, Alberta Blue Cross. 
Dr. Thomas Nakatsui is the medical director of the Nakatsui DermaSurgery Centre, a certified non-hospital surgical facility in Edmonton. He holds a Fellowship in Dermatology in Canada and is also Board certified in the United States. Dr. Nakatsui is skilled in all areas of dermatology including laser surgery, fillers, Botox, and hair transplantation. He completed his medical training and residency in Dermatology at the University of Alberta in Edmonton and received additional training at several Centers of Excellence including Harvard Medical School and the Massachusetts General Hospital in Boston, the Johns Hopkins Medical Centre in Baltimore, and the Mayo Clinic in Rochester. In addition, he was trained personally by dermatologist Dr. Don Groot since July 2000 in the use of lasers, Botox, fillers, and other treatment modalities. Dr. Nakatsui has won numerous awards and scholarships. Among them, he was accepted into the prestigious Alpha-Omega-Alpha Honor Medical Society. He prides himself in the care of medical and cosmetic dermatology needs of his patients.
Dr. Nakatsui provided an overview of skin cancers, pre-cancerous skin conditions, common skin conditions, and aging, as well as treatment options and the warning signs we should look out for when assessing potentially cancerous legions or spots on our skin. Some of the key takeaways from the lecture were: avoid over-exposure to the sun, especially between 10 am and 2 am, the importance of wearing and reapplying sunscreen with an SPF of 30 or higher every two hours, as well as UV blocking clothes, wide brim hats, and wearing sunglasses with UV protection. 
Thank you to Dr. Nakatsui for sharing his time and this important lecture with us, and to everyone who came out to support our event! In case you missed the live event on Thursday the 22nd, you can watch the recorded version on our YouTube channel or by clicking the link below: 
Stay tuned for our next What The Health event on Thursday October 13th, 2022!