Our Partnership with Yu Fashion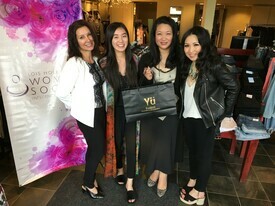 After many years in the fashion industry, Fay Yamada opened Yu Fashion in the Fall of 2004. The Yu Fashion name has become synonymous with hard-to-find designer labels and has since become an all-encompassing hot spot for the best in clothing and accessories in Edmonton.
Yu Fashion is a proud partner of the Lois Hole Hospital Women's Society, a portion of each purchase from their bi-annual shopping parties are donated to the society.  The Yu Fashion Family hopes to see positive advancement and equal access to healthcare for all women.
To date, Yu Fashion has raised over $5,500 for the Lois Hole Hospital Women's Society supporting their efforts to influence, inspire, and impact the future of women's health advances in our city and province.
Throughout her career, Fay Yamada has been an advocate for many organizations and charities that focus on the betterment of health and the community. Our Women's Society is thrilled to be welcomed into their fold of support.