Our Partnership with Poppy Barley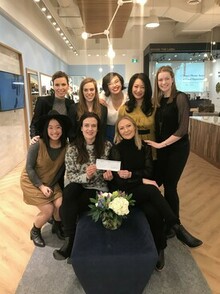 The Lois Hole Hospital Women's Society is thrilled to announce a new partnership with Edmonton's own Poppy Barley. 
Named in honour of the original unit of measurement in shoemaking, poppyseeds, and barleycorns, Poppy Barley has taken the world by storm offering real shoes, made by real people, for real people. This is a company that is built on the values of buying less, buying better and pricing products fairly to begin with. Huge sales days like Black Friday and Cyber Monday does not fit with their brand identity. Instead, Poppy Barley has decided to give back this holiday season. 
We are thrilled to share that from Friday, November 23rd until Monday, November 26th, Poppy Barley will be donating 100% of proceeds up to $20,000 to the Lois Hole Hospital Women's Society to fund a new Panda Warmer for the Lois Hole Hospital for Women.
This innovative piece of equipment is used in labour, delivery and postpartum areas to help keep babies warm while they are being observed or have special care requirements.  
"Poppy Barley was founded and is employed and supported by a community of amazing women. We want to honour these women and others like them. Keeping with our mission to be a 'business for good,' we want to give back to the organizations and initiatives making a difference in our community. Instead of joining in on the mania of what has become Black Friday, we've chosen to lend our support and dollars to a place that has done so much good for so many women in Alberta and across Western Canada.  There is no greater gift than supporting the health of our mothers, daughters, sisters, and their newborn babies. The Lois Hole Hospital for Women is near and dear to our hearts, with FIVE Poppy Barley babies being born at the Lois Hole, and we are so proud to support a national leader in women's health for all ages and stages."
~ Justine and Kendall Barber, Founders, Poppy Barley
Thank you, Poppy Barley, for your generosity and for helping us on our journey to deliver compassionate care and innovative treatments to all patients of the Lois Hole Hospital for Women.