Low-Tech, High-Touch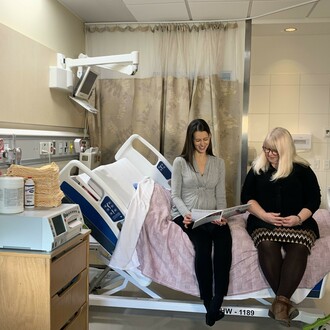 When women are forced to spend days, weeks, and sometimes even months on bedrest in the hospital due to complications during their pregnancy it is not only their physical medical needs that need to be addressed. Caring for a patient's mental health is also very important.  
"I often visit patients and ask them how they are and the response is that they are fine," said Cheryl Krueger, Spiritual Care Practitioner at the Lois Hole Hospital for Women. "But when I ask a few more questions they breakdown and share the real issues they are worried about."
After having dealt with women on bedrest in the hospital's antepartum unit for many year's Krueger had the idea to create a journal customized to the challenges the women going through a bedrest pregnancy face on a daily basis when in hospital for long periods of time. 
"I wanted to create a safe place for them to share their worries and their joy," said Krueger. "I wanted to present them with questions that would help them deal with their own emotions and a journal was a perfect way to do so."  
Krueger presented the idea to the Royal Alexandra Hospital Foundation, and the foundation shared the project with us, the Lois Hole Hospital Women's Society. As a group of activated women and men focused on a commitment to ensure the Lois Hole Hospital for Women has everything it requires to deliver compassionate care and innovative treatments to patients, this project was a perfect fit. 
"We were thrilled to hear about the "Baby N' Me – A Guided Journal for Bedrest Pregnancy" project," said Krista Ference, Co-Chair of the Society. "It was a funding initiative our group was immediately supportive of. These journals serve as an innovative tool to increase the quality of compassionate care available for antepartum patients and will help to keep women happy, healthy and thriving along their healthcare journey, before and after baby arrives." 
We are beyond grateful to have the journals in the hands of the patients who need it, just in time for the holiday season when loneliness and isolation can take a real toll on their emotional well-being.