Our frontline providers need your support during COVID-19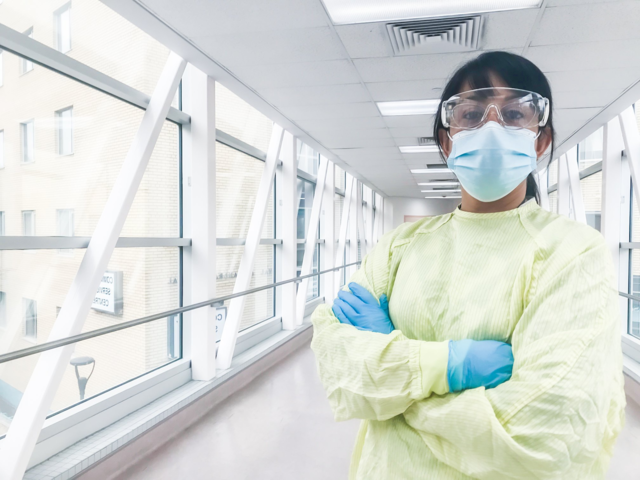 Now more than ever, your support of the Royal Alexandra Hospital is critical. With the unprecedented responses demanded by COVID-19 upon our healthcare teams, your continued commitment is even more important. We know the government is making every effort to acquire personal protective equipment (PPE) supplies. Philanthropy is more important than ever to support these efforts and to provide additional items as they are identified by healthcare leadership.
One thing becomes clear when Albertans face adversity, we come together in support and solidarity. Our foundation is seeking donors to support the priority needs of our hospital in the care of patients during this COVID-19 pandemic.
One of the challenges healthcare teams encounter is difficulty in communicating with patients who are compromised by COVID-19. Add the strict practices of physical distancing and the need to restrict visitors, the need to find other ways to communicate increases.
As cell phones often do not work at the hospital, we have turned our attention to iPads for in-hospital use.
Care team members use iPads to communicate medical information, including discharge instructions, necessary for all patients while keeping everyone safe.
The addition of iPads to the healthcare team's toolkit will have a tremendous impact on staff, patients, and families at the Alex. Donor support will help purchase iPads. 
Donor support will also fund isolation carts. These carts are critically important in ensuring staff and physicians have the necessary personal protective equipment readily available to them where and when they need it. Every patient cared for requires an isolation cart to prevent hospital transmission of infection. The hospital's need for patient isolation has taken a dramatic increase due to the COVID-19 pandemic.
Donor support will also purchase portable vital sign machines and portable Electrocardiography machines. These portable care tools are necessary, so patients can receive the care they need in the space they are in to lower the risk of infection transmission from patient to patient. 
Your gift will ensure continued support of this big, busy hospital and provide the best care for the diverse, and often vulnerable, patient groups it serves. Your donation will support the hard and tireless work of our healthcare teams who are saving lives each day, work that is made more complex in the face of the pandemic.
Thank you, for honouring the work of our healthcare heroes by caring for one another. When each of us take the precautions of physical distancing we do our part to bring this pandemic to an end.