Lois Hole Hospital Women's Society Celebrates One Year of Success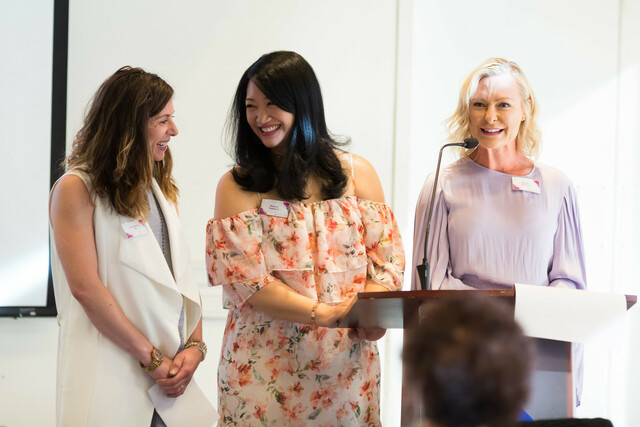 A room full of remarkable women and several supporting men converged on the Royal Glenora Club this past Monday to celebrate the first successful year of the Lois Hole Hospital Women's Society.
The society's charity partner, the Royal Glenora Club, played host to the festivity where society members, founding members and business partners alike came together to show their support for this activated group focused on raising awareness and important funds for the Lois Hole Hospital for Women. 
"So much has happened in the last year," shared Melanie Nakatsui, Co-chair of the Society. "We are a group of women in all ages and stages in life, passionate about and committed raising excellence in women's healthcare and treatment. It is through the partnerships we have built and the generous donations we have obtained from all of you that we can achieve incredible advances in women's health at the Lois Hole Hospital for Women. We are very grateful for all of you."  
The group has been hard at work since its inception in the spring of 2017 encouraging members to join their network of activated women who are passionate about the Lois Hole Hospital, and who are motivated to influence, inspire, and impact the future of women's health advances in the city and province. 
The group's incredibly successful founding members campaign has acquired more than sixty members who are laying the bedrock upon which the group's philanthropic success begins, through their financial contributions to purchase a fluorescence imaging upgrade to the da Vinci Surgical Robot also known as Firefly. 
"The fluorescence imaging upgrade for the robot will provide combined standard surgical images with fluorescence imaging," shared guest speaker Dr. Sophia Pin.  "The dye that is used with the Firefly upgrade improves accuracy, visualization, and surgical time and decreases surgical complications such as bleeding, nerve damage and swelling. The fluorescence imaging is very clean, distinct. It's almost like having night vision." 
Thanks to the members, founding members, business partners, and several major gifts the group has raised well over $200,000 and are quickly approaching their first goal of funding the state-of-the-art Firefly technology. A seed gift from board member Diane Kyle-Buchanan, and major contributions from the Cecilia Johnstone Fund for Research and Innovation in the Treatment of Cervical Cancer, and the Dr. Terry Traff Endowment Fund have also supported their effort.   
Congratulations to the group on what we can only assume will be the first of many very successful years of impact to come!