A Year of Influence, Inspiration and Impact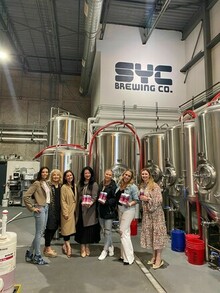 It's hard to believe yet another year has come and gone, and that 2023 is just around the corner! And what a spectacular year 2022 was for the Women's Society!  
Thanks to Alberta Blue Cross, we were able to continue showcasing the very best in women's healthcare through our What the Health lecture series, covering topics ranging from endometriosis to breast cancer, and everything in between. If you missed any remember that our What the Health lectures are available to view for free on our YouTube channel.  
 We hosted two Bid & Benefit virtual silent auctions, which raised $8,428!  
 And finally, in 2022 we were able to host events again… in person! 
 We had an amazing time hosting everyone for our five-year anniversary celebration at SYC Brewing this past June. We had so much fun celebrating this milestone with our amazing supporters and volunteers. SYC Brewing created a special branded beer for the occasion and donated funds from every sale to the Women's Society, totalling $2,689.04! 
The Women's Society had a team participate in the LOVE YOU by Shoppers Drug Mart Run for Women, taking place at Sir Wilfrid Laurier Park in person for the first time in two years. The event had over 2,140 registrants and raised over $240,000 across Canada for women's mental health programs!  
This past October, the Women's Society partnered with Simons to present Simons x LHHWS: Fashioning the Future. The inspiring evening brought together a fashion show, and messages of impact from Lisa Diamond, Chair of the Women's Society, Sharlene Rutherford, President and CEO of the Royal Alexandra Hospital Foundation, and Simons' Chief Merchant, Peter Simons and raised an incredible $25,000 in support of the Indigenous Cultural Partnership initiative at the Lois Hole Hospital for Women! 
 Many diverse community events were also held on behalf of the Women's Society—from partners such as the Canadian Athletics Club-WCS, Cottswood Interiors, Glow Edmonton, and Gucci West Edmonton Mall To name a few. Thank you SO much for supporting the Women's Society and our mission! 
 As we close out this year—and look ahead to another one—everyone at the Women's Society would like to say a huge thank you to our amazing members, supporters, and sponsors. This year the Women's Society was able to continue raising critical funds for women's health initiatives at the Lois Hole Hospital for Women—totalling $850,000 since the society's inception!  
Here's to a 2023 full of even more progress and support for the Lois Hole Hospital for Women! 
 If you are interested in supporting the Women's Society, learn about ways to get involved here!