What's New at the Lois Hole Hospital Women's Society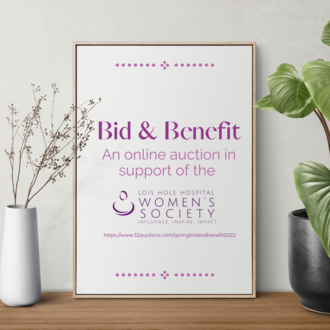 While the Lois Hole Hospital Women's Society continues to produce our events virtually due to safety precautions related to COVID-19, we've had a busy and exciting start to 2022!
Since January, we've hosted three What the Health: Mind + Body Talks lectures. To start the season off, we had Dr. Saranjeev Lahl and Dr. Cable talk with us about the links between HPV and oral cancers.
We learned that while HPV is commonly known to be associated with cervical cancer, the number of oropharyngeal cancers has surpassed the number of cervical cancers and became the most common type of cancer caused by HPV in Canada. Because the lecture is proprietary, aren't able to share the video here, but the topic is extremely relevant and worth exploring further. 
In February we hosted What the Health: Let's Talk Matters of the Heart in honour of Heart Month in Canada, and in collaboration with the Women and Children's Health Research Institute (WCHRI) and the Alberta Women's Health Foundation (AWHF). Heart disease is the number one cause of death in Canada for women over the age of 55, and women are more likely to die from heart disease than from any other disease. At the event, we were joined women's health researchers Dr. Tanya Berry and Dr. Lisa Hornberger, and patient-advocate Kelly Opper, who shed a light on the advancements in women's heart health that are saving lives. You can watch the whole lecture in full on our YouTube channel:
In March we hosted What the Health: Let's Talk About Cognitive Decline, where we are joined by Andrea Bassan, a registered nurse who works with the older population. We learned about the various disorders that cause cognitive decline, and how you can support your loved ones should they become impacted by cognitive decline. It was an informative and impactful session, particularly as cognitive decline touches so many people as they age. The full video is available below and on our YouTube channel:
From March 19th - 26th we held our third Bid & Benefit online auction, raising $3861! A sincere thank-you to everyone who bid participated in the event, whether that was through donating to the auction or bidding on items. The support means a lot! A special thanks to our donors: Harmony Organization, Diamond Dental, Ju-ene, Blu's, Life/Styled, SHEque Accessories, Base Salon, the Edmonton Petroleum Golf and Country Club, RGO Edmonton, West Edmonton Mall Toyota, Nakatsui DermaSurgery, and Melcor Developments! 
Our next upcoming event is What The Health: Let's Talk About Endometriosis and Pelvic Pain, featuring gynaecologist and obstetrician, Dr. Pieter Kruger, and Lux, an endometriosis patient advocate. Attendees will learn about the cause and symptoms of endometriosis, medical options and treatment currently available, as well as answer any questions guests may have about this important topic. The event will take place from on April 28th from 7-8:30pm via zoom. You can register by clicking the link below. We hope to see you there! 
Register Here for What The Health
Thank you to everyone for your ongoing support of the Lois Hole Hospital Women's Society. We look forward to sharing more news about our programs and partnerships soon!