In times like these, we come together.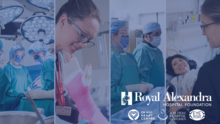 On behalf of the Royal Alexandra Hospital Foundation thank you for the many kind and caring gestures of support for the men and women on the frontlines of care at our hospital. From meal deliveries to snacks and water and all the well-wishes in between, it's inspiring to see that through the toughest of times emerges the best of humanity.
As the COVID-19 pandemic evolves, the Royal Alexandra Hospital Foundation has been proud to serve as an intermediary between local companies wishing to help the healthcare teams at the Alex, including those who staff the Emergency Command Centre. We've sourced water, snacks, and other supplies as they are identified.
Most recently we have been asked to consider additional items that relate directly to the care of inpatients, including those who are now without the opportunity to see family members due to restrictions around isolation. In this case, we are considering purchases in technology that can adhere to strict infection prevention practices. We're also looking into the need for isolation carts, which contain the items that ensure the safety of healthcare teams.
As we continue to work closely with our site, we ask that you work closely with us. Please consider making a donation to support the efforts inside the hospital—to meet the comfort and care of isolated patients and the safety of our healthcare teams. And please don't hesitate to call us directly if you have access to packaged food supplies.
So thank you again, for your continued support of this big, busy hospital and the diversity of patient groups it serves. Thank you for keeping top of mind the hard work of saving lives, made more complex in the face of a pandemic. And thank you for honouring their work by caring for one another.
Sincerely,
Sharlene Rutherford
Chief Executive Officer (incoming)
Royal Alexandra Hospital Foundation