A LHHWS Fall Recap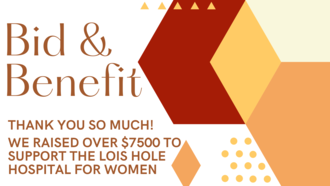 After a brief break for the summer, The Lois Hole Hospital Women's Society returned to action this fall – and what a busy fall it's been! Here are a few of the highlights from the past few months.
Starting in September, the LHHWS hosted an event in partnership with WCHRI called "The Next Generation of Women's Health Researchers." The event showcased presentations from summer students, graduate students, and post-doctoral fellows who shared why they chose women's health research, their current projects and future plans, and how funding from WCHRI had positively impacted their lives. To say we left feeling inspired is an understatement! We can't wait to see where these women end up in their careers. You can watch the WCHRI x LHHWS: The Next Generation of Women's Health Researchers on our YouTube Channel.
On September 21st, we hosted our first What The Health: Mind + Body Talk of the season, featuring Dr. Stephanie Liu, a.k.a Dr. Mom. A family physician, assistant clinical professor, blogger, and author as she shared her journey through motherhood, busted parenting myths and shared why she started writing children's books. You can watch the segment below:
For our October What The Health: Let's talk about Sexual Assault Trauma & Responding to Disclosures, the LHHWS welcomed Education Team Lead Shannon Netterfield from the Sexual Assault Centre of Edmonton (SACE). Shannon prepared an informative presentation providing an overview of sexual assault and consent in Canada, common responses to trauma, and advice on how to respond to disclosures. You can watch the video below:
Our What The Health events are graciously sponsored by Alberta Blue Cross. We wouldn't be able to produce these events without their ongoing support! Thank you, Alberta Blue Cross, for your unwavering commitment to promoting women's health and wellness.
The LHHWS also hosted our second Bid and Benefit: Fall Edition. The online auction ran from October 15th to October 23rd with the goal of raising $7500. We raised $7094 from the auction, and thanks to the generosity of a donor who topped up our campaign, we reached our fundraising goal! Thank you so much to our supporters, the small businesses who contributed items to our auction, and to everyone who used their networks to spread the word about Bid and Benefit: Fall 2021. We owe our success to you!
We can't wait to share what's coming up over the next few months. We've got our another WCHRI x LHHWS event coming up on November 24th and our next What The Health: Health At Every Size on November 25th. Thank you again for all your support, and for being such an engaged, passionate group of people. Stayed tuned for more updates!