'Raise Some Help' For Canada's Women at the 2021 Run For Women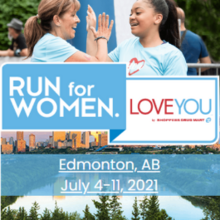 Since its inception in 2013, the Shoppers LOVE. YOU. Run for Women has been held annually to support women's mental health across the country.
Despite the pandemic—and in spite of it—this year will be no exception.
With the COVID-19 crisis affecting every aspect of our lives, mental health matters more than ever, and every step we take counts. 
The 7th annual Run For Women 5k and 10K will once again be held virtually, meaning participants can show their support by walking or running anytime, anywhere, this July.
Full details:
*REGISTER AND LEARN MORE HERE
WHERE/WHEN – Walk or run from anywhere July 4-11, 2021
WATCH – Event will be live-streamed on RunForWomen.ca on Sunday, July 11, 2021 starting at 11am ET /  8am PT 
*Participants can register for the special early-bird price of $35 (plus tax and processing) until February 15th at midnight, so be sure to register soon!
Feel free to join the "Royal Alexandra Hospital Foundation" team, "Lois Hole Hospital Women's Society" team, or start your own!

About the event
The event will continue to provide funding for life-changing programs and research at the Lois Hole Hospital for Women—such as creating the The Hope perinatal anxiety and depression e-therapy platform that has already helped nearly 2,000 women—as well as across the country. 
And according to the BC Women's Health Foundation, we are coming to learn that the COVID-19 pandemic has been disproportionately affecting women. 
The four-part research series has revealed such facts as women are at higher risk of exposure to the virus, due to the majority of healthcare workers across Canada being female (82%), women are taking on 70% of unpaid responsibilities at home (like caregiving, cooking, cleaning, and homeschooling), and more...
Take action now—sign up and  "raise a little help to do some good!"
We look forward to you joining us and helping make a difference for women right here in Alberta and all across Canada!